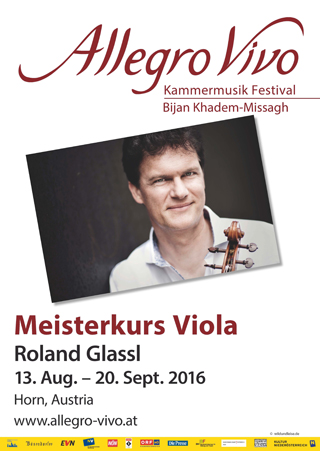 August 13 - 20, 2023
Summer Academy Allegro Vivo
3580 Horn / austria

Arrival: 12.08. until 20.00h
Class Start: 13.08. at 9:15
Class Location: Horn, Waldviertel
Class Scope: Private lessons, overall 180 min, accompaniment, opportunity to perform
Deadline: 15. Juni 2023
Masterclass fee: 350,-- Euro Registration fee: 100,-- Euro

Official webpage and application
General Information:


- Course languages German and/or English


- Accommodation incl. breakfast (master- and youth courses) at "Bundesschülerheim" Horn, Gasthof zur Stadt Horn, "Bildungswerkstatt Mold", "Gasthof zur Eiche", separate external accommodation is possible
Accommodation incl. full board (courses for children and parents): Bildungswerkstatt Mold
- Class venues in Horn (master- and youth courses): Kunsthaus Horn, Allegro Vivo Campus, Bildungswerkstatt Mold and Wirtschaftskammer
Class venues "Courses for children and parents: Bildungswerkstatt Mold


- Pianos for practice will be available for at least 3 hours per day and participant

- Participants can practice in their rooms; an additional limited number of practice rooms will be offered.

- Passive course attendance is possible upon registration.

- Confirmation of registration will be sent after approval by the lecturer and payment of the registration fee. Limited number of places available. Early registration is recommended

- Die Kursbestätigung erfolgt nach Freigabe durch den Dozenten und Bezahlung der Anmeldegbeühr. Die Kursplätze sind limitiert. Eine frühestmögliche Anmeldung wird empfohlen.


- We recommend to all participants to effect a personal travel and health insurance.
- Allegro Vivo assumes no liability for the above.
- In case of your cancellation by July 31st 50%, after July 31st 100% of the course fee will be charged.
- Minor participants are subject to the rules of the Children and Youth Protection Act.
Payment arrangements
We accept creditcard: Diners, Eurocard/Mastercard, Visa
Without charges for the receiver by remittance to account
"Academia Allegro Vivo - Festival Austria", Sparkasse Horn
IBAN AT162022100000004952 BIC SPHNAT21XXX


all prices incl. taxes